Marine FirmLock
A smarter way was needed to secure equipment to timber and composite decks and hulls. Now the JEC Marine Firmlock provides an elegant and efficient solution.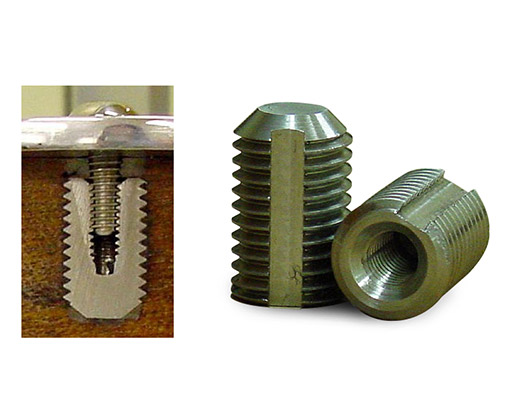 Securing equipment to timber decks and hulls can be difficult if you need to remove bolts and replace them from time to time. Traditionally a metal plate would be secured to the timber and equipment bolted to that with problems of trapped water, unnecessary weight and complexity, etc.
With the JEC Marine FirmLock, a 316 stainless steel insert is screwed and epoxied into the timber or fibreglass, leaving a neat 'SecuraLock' thread. 'SecuraLock' threads accept standard thread bolts without the need for spring washers; so you can use counter-sunk bolts.
You can have complete confidence in a watertight and secure anchor point.
JEC Marine FirmLocks are available in 2 sizes, M8 and M6 with other sizes available on request.
JEC Marine FirmLocks have a 4.3mm keyway machined down the outer thread and a bevelled bottom edge to allow excess epoxy to escape the hole.
Model Specifications
The following specifications are for standard capacity fans. Larger, higher capacity fans are also available.
| | | |
| --- | --- | --- |
| | To suit M8 bolts | To suit M6 bolts |
| Outside thread | M16 | M14 |
| Length | 25mm | 20mm |
| Inside thread | M8 | M6 |
| Length of thread | 16mm | 14mm |
| Material | 316 stainless steel. | (Other materials available on request). |
Download PDF Technical Information

Firmlock
CONTACT US ABOUT THIS PRODUCT
Phone: + 61 3 8872 6555 Fax: + 61 3 8872 6550 Email: sales@jecmarine.com