Communications Equipment Interference Filter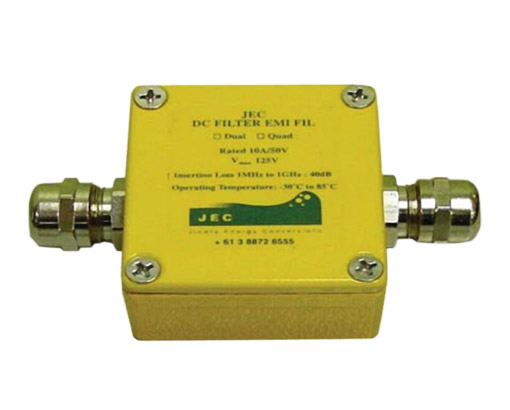 Preventing switching spikes and noise generated by motors and other electrical equipment interfering with your communication and electronic equipment is an important part of any boat's electrical system. JEC has developed a filter that will help prevent interference getting into your wiring.
The JEC EMI Filter is available in two models to filter 2 or 4 circuits.
The EMI Filter is housed in an aluminium cast box, hard anodised and powder coated for maximum protection. For cable entry, the specially designed nickel-plated brass glands provide watertight seals as well as electrically bonding any cable shield to the case.
Applications
Filters noises from various electronic DC equipment. Used on boat equipment, including electromagnetic clutches and motors with brushes to eliminate whining noises on HF radios.
Specifications
| | |
| --- | --- |
| Rated Voltage: | 50 VDC (Max 125) |
| Rated Current: | 10A |
| Insulation Resistance: | Minimum 100 MOhm |
| Insertion Loss: | 1 MHz to 1 GHz, 40 dB (20 - 25°) |
| Inline Impedance: | -50 Ohm |
| Operating Temperature: | -30 to 85°C |
Filter box size: 55mm x 60mm x 31mm
Flanges extend the width from 55mm to 99mm
Maximum cable size in standard flange: 8mm
Download PDF Specification

noisefilter
CONTACT US ABOUT THIS PRODUCT
Phone: + 61 3 8872 6555 Fax: + 61 3 8872 6550 Email: sales@jecmarine.com